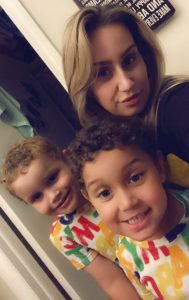 Elijah and Isaiah are 3 1/2 year old twins who have been attending WPDN since they were 2 years old. They are both very busy boys! They love playing superheroes, building with blocks, and running around the playground! They love each other so much and are good friends to the peers around them.
1. What do you like about school? Isaiah loves playing outside and Elijah loves when he is able to color.
2. What do you want to be when you grow up? Isaiah wants to be a ninja and Elijah wants to be Spider-Man (which is what they were for Halloween this year!)
3. What is your favorite part of the day? Isaiah enjoys playing with his friends and Elijah's favorite part of the day is going home with Mommy!