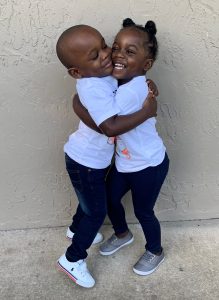 Ashton and Alyssa started attending WPDN when they were two. Their older sister, Zianne, is a WPDN graduate! Since attending WPDN, Ashton and Alyssa have learned to make friends outside of their sibling, increased their language and vocabulary and are continuing to learn to manage their big feelings. We love having families come back to our school!
1. What has been your experience in having your children attend WPDN? Having the twins at WPDN has been a great experience. We have truly become a family. I feel at peace dropping the kids off every morning because I know that the staff has put security measures in place to keep them safe, most of all that the staff who are with them daily have a love for children and my children are happy to come to school because of this environment. Also to watch them grow and become so self-sufficient is amazing. To watch them learn new things like their shapes, colors, numbers, letters, and how to spell their names without my help is amazing, this truly shows the effort that the staff puts into the curriculum.
2. How has the school helped your children? WPDN has helped my children learn to socialize with others and use different techniques to express their feelings. It's also helped them increase their vocabulary and motor skills.
3. What would you say to parents considering WPDN for their child or children? Just do it!!! You will not regret it. I love the staff. 9 years ago I put my daughter in this school and when I had the twins I didn't think twice, WPDN was my 1st choice. They keep me up to date on the day-to-day activities of my children. They have a well-prepared curriculum and quarterly assessments, and also provide referrals and assistance for the children, like speech therapy.