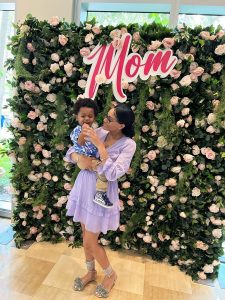 Ms. Fallon started working at WPDN in 2021, during the height of the pandemic. She has been working in WPDN's VPK classroom since then. Ms. Fallon is an amazing teacher who cultivates nurturing relationships with all of the students in her classroom, and in other classrooms as well. Ms. Fallon is currently pursuing her Master's degree in Clinical Psychology. WPDN is so happy to have Ms. Fallon on our team.
1. What brings you to work every day? Every day I come into the classroom, my kids come up to me, hug me, and ask me how I'm doing. I love that even at such a young age they show much love and concern. I also love interacting with my coworkers who are not only helpful, but enjoyable to be around. As a parent and teacher at WPDN, I get to enjoy working with the kids and seeing my child learn and grow at the same time.
2. What gets the kids excited or helps them engage? When you show the kids love and support, they really enjoy it. Especially if you are talking about something that is interesting to them, they smile and their faces light up with excitement. It is so wonderful to watch.
3. If funds weren't an issue, what do you wish you could do more of at the school? I would do bigger art projects and science experiments. I would also bring in more outside activities to the school for the kids to enjoy.